6 Women Changing The Earth
Amma, the Hugging Saint
Mata Amritanandamayi, or Amma, as she is known to her followers, is a guru and spiritual teacher who chooses to lead with love. It may seem strange or naive to believe in love given our current socio and political environment our nation and the world appear to be in aggressive opposition. But according to Amma's teachings, leading with love is not unusual. Love is among many other powerful leadership skills innately found in women.
"The greatest strength of women lies in their innate motherhood, in their creative, life-giving power," Amma says, "And this power can help women to bring about a far more significant change in society than men could ever accomplish. In truth, no external power can possibly obstruct woman or her innate qualities of motherhood — qualities such as love, empathy, and patience."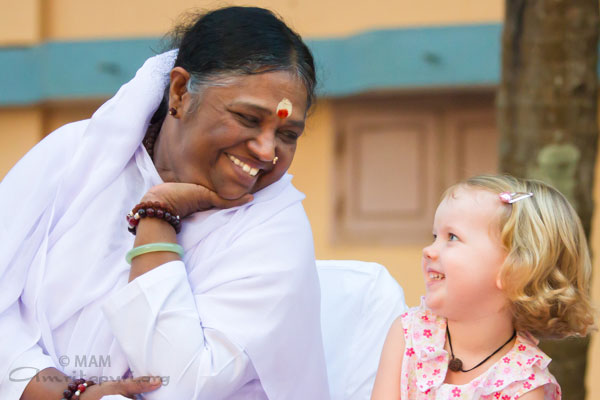 Amma communicates these ideals in her teachings worldwide and is famous as the so-called "hugging saint." She has embraced more than 33 million people throughout the world over the last 30 years. But it wasn't just as an adult that Amma has taught through love. She started this path as a young child in India where she helped ease the suffering of poor neighbors with free clothes, food and hugs even though her own family wasn't wealthy and was sometimes upset by her giving.
"Real leadership is not to dominate or to control," Amma teaches, "but to serve others with love and compassion, and to inspire women and men alike through the example of our lives."
5 More Women Changing People and Planet
This Mother's Day we'd like to celebrate Amma as well as five more women (both mom's and not) who, much like ECOlunchbox founder Sandra Harris, are sharing their love of people, planet and our oceans through their mission-based work.
Hallie Inglehart of All One Ocean
One day while walking on Limantour Beach on the Northern Californian coastline, Hallie Ingehart came across a seagull entangled in plastic fishing line. She and another beachgoer were able to set the struggling seagull free and it was a joyful moment.
But soon Inglehart learned that more than a million whales, dolphins, sea turtles, birds, fish and other sea creatures die every year from our trash, and she knew her work had only just begun.
"I knew I had to do something to help reduce the ocean's plastic, much of which comes from upstream watersheds, like schools. So I founded All One Ocean, based in Mill Valley, and came up with a community-driven solution to ocean pollution: beach and school clean-up stations," Inglehart explained.
Permanently installed at beaches and schoolyards, the All One Ocean Stations are wooden boxes containing repurposed bags for collecting trash.
"My hope is that everyone will start taking care of our waters by picking up any trash they see so that every day is a beach or school clean-up day."   If you're interested in sponsoring, setting up or caring for a station, please visit alloneocean.org.
Rebecca Burgess
, founder of Fibershed
Rebecca Burgess is a textile artist, author and the founder of Fibershed. In 2011, Burgess took it upon herself to take the "Fibershed Challenge" -- wearing clothes made from fibers and dyes sourced solely from 150 miles from her front door for an entire year.
"I had never before realized the power and importance of clothing," Burgess reminisced. "We wouldn't leave our houses without clothing, and yet we generally think nothing of the processes that took place to create our garments."
Fibershed was founded to bring awareness to fibers and how they are woven into our ecosystems through the animals and plants they come from as well as the soil, water and other elements that provide the foundation for them (and us!) to thrive.
The organization networks farmers with knowledge, business opportunities, and other opportunities. Projects include implementation of sustainable practices like carbon farming, rebuilding regional manufacturing, and connecting makers and artisans to farms and ranches through public education, among other innovative strategies. From farm to yarn, Fibershed takes into account the holistic process of textile manufacturing.
Sukey Parmalee of Green Gulch
Sukey Parmalee serves as the "land advocate" at Green Gulch. In addition to being a Buddhist temple and practice center, Green Gulch is a working farm in Marin County, north of San Francisco, focussed on growing sustainable, earth-friendly, organic produce.
Green Gulch, which is one of three centers that make up the San Francisco Zen Center, holds a farmer's market, classes for children, tea gatherings and tours to help "awaken in ourselves and the many people who come here the bodhisattva spirit, the spirit of kindness and realistic helpfulness."
Parmalee recently led a successful watershed restoration project of the property with tractors and bulldozers as well as hands-in-the-earth volunteers pulling weeds, shaping streambanks, and planting native trees, shrubs, and grasses.
"I want to take care of this land, this watershed, and this community so that it is always here for people to return and find inspiration," Parmalee says. "I'm lucky to work on the land and see dreams open into reality. The creek restoration has two beautiful sections complete - each bringing an aliveness and vibrancy to the creek and also bringing the creek closer to us."
Sara Bayles of The Daily Ocean Project
Sara Bayles started her activism for the ocean by simply grabbing a bag before her walks on the beach and filling it daily with trash, transforming her walks into a beach cleaning mission.
Over three years ago Bayles created The Daily Ocean Project to collect plastic trash from her local beach in Santa Monica, California. After 365 beach cleanups, she's collected over 1,300 pounds of trash. Each daily beach cleanup lasts only 20 minutes, so this kind of activism is a great example of how to insert environmental action into a busy life and make a significant difference.
Bayles, a writer and artist, has already inspired and educated thousands of people with her project and she's committed to reaching thousands more. "One person makes a difference," Bayles says. "That one person is you. Together we are an unstoppable solution."
Lisa Shipek of The Watershed Group
Lisa Shipek is the co-founder of  the Watershed Management Group, an inspiring "rain to table" movement, focused on improving desert ecosystems near Tucson, Arizona through supporting its water tables. This group is committed to restoring year-round stream flow in local rivers which now run mostly dry.
"Despite our politics, passions, race, religion, or socio-economic status, we are all part of one watershed," Shipek says. "If you are feeling troubled in this divided political climate, respond positively by increasing your commitment to community with small but meaningful acts."
Through school visits, a hands-on coop, professional water harvesting training and policy initiatives, The Watershed Group is making an impact on how we nuture and conserve our water from the water table up.
Thanks to Stuart Moody of Green Sangha for helping us find these inspirational Earth Mothers. 
Continue reading